We woke up this morning to a thick layer of frost on the ground. Winter is starting to settle in. Although the Alpacas are still enjoying sun bathing in the mid afternoon, morning and evenings are chilly. With a roaring fire and a cup of tea I'm watching our girls eat frost coated grass. Hay is free fed, but our ladies are tenacious and will eat every last bit of grass until the winter cold has killed it off. Even with access to a barn full of straw to bed down in, our silly 'pacas still prefer to bed down at night in a group, outside. Which means, everyone looks a bit greyer in the morning with a fine layer of frost on their coats. Being that these species originated in the higher planes of the andes in Peru, Bolivia and Chile, they are adapted to colder climates and do well in our Canadian winter freeze. We do have to watch to ensure they are all getting enough roughage, but they are by no means lacking!

If you're disbelieving of the warmth of alpaca, come out and visit before the suns burnt off the last bit of frost. See it sparkling on their coats as they run to the barn for their grain ration. They are not cold - even with their last shearing this summer and their full coat hasn't grown in yet. If it can keep these creatures warm on a morning like today - your toes, fingers and noggin are going to be quite happy in a toasty warm alpaca product!

The fire is going finally, Kid is off to school which means when my tea is done, I must dawn my own winter accessories and venture into the cold for morning chores, bringing the boys to their pasture and of course, everyone's favorite time, morning grain ration.

Keep warm!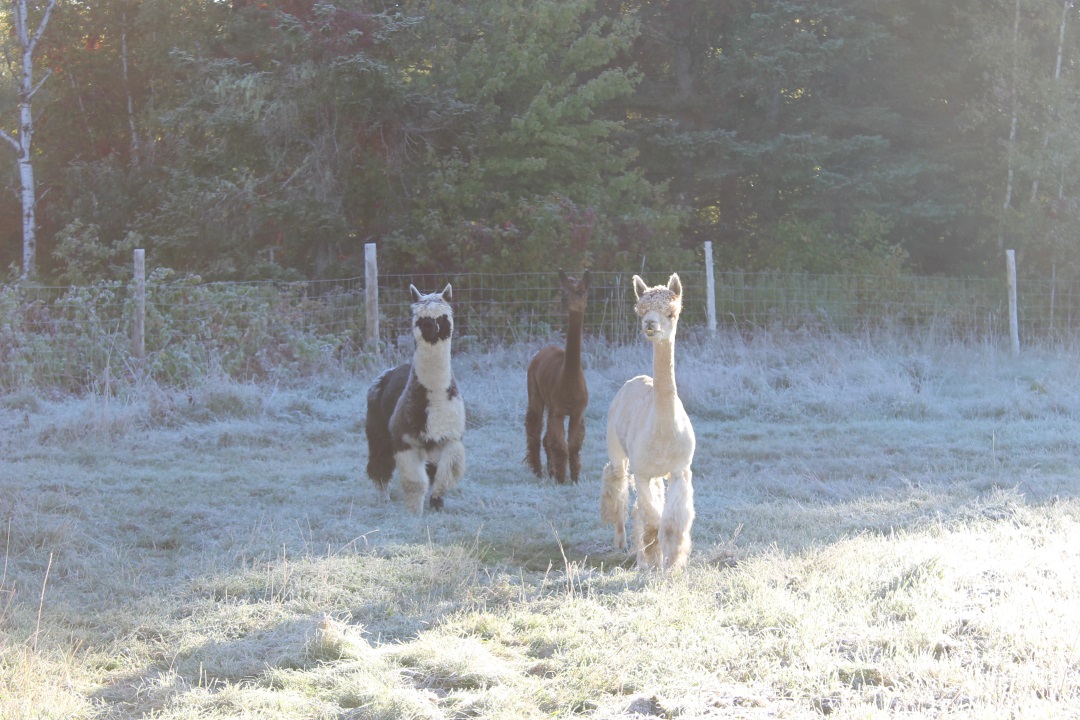 Categories: None